How to prevent data loss in a Synology NAS system
How to prevent data loss in the Synology NAS system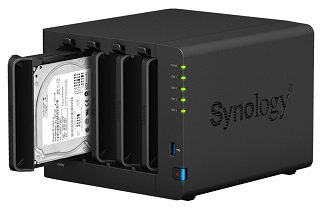 In recent years, network attached storages have got more affordable not only for large businesses, but also for middle and small companies having an urge in a capacious, and fast cloud station to process and store tons of very important information.
Not least among the most popular NAS appliances are Synology products. Meeting essential needs of both small and large businesses, Synology NASs are equally well for corporate and home-based networks administration.
In addition, Synology network attached storages feature a unique RAID configuration known as Synology Hybrid RAID (SHR). With SHR it is extremely easy to deploy storage volumes and make the file storage more capacious.
At the same time, even the most advanced RAID technology is not immune from logical and technical failures. Just like many other NASs and SANs, Synology drives may fall victims to human errors (careless network administration, mistakes made by staff, etc.) or production/OS defects. Actually, there are plenty of situations where data loss may occur.
So, after a couple of years of running the first-class NAS/SAN units, you may easily face data inaccessibility or even temporary data loss because of a faulty attempt to migrate to a different RAID level or extend the file storage.
They say, prevention is better than cure. This rule works perfectly when it comes to processing vital information in a NAS/SAN system. Here is a bunch of tips for NAS owners on how to avoid unnecessary risks and save crucial files from permanent loss:
Keep it calm. Whatever happens, it would be very wise of you to find ways to keep morale high. This will allow you to understand the situation and avoid problems that are more serious. Please, keep in mind that trying to solve data-related issue yourself may result in severe unit corruption or even permanent file corruption and loss. The best solution you can come out with when a nasty thing happens with NAS/SAN is to switch off the system and dial the professional data recovery services provider as soon as possible.
Creating data backups on a regular basis is a good habit that can save you time and money. One of the most common mistakes here: NAS/SAN owners often forget to backup critical data before the pool storage/RAID volume re-configuration. As a result, there is a risk to corrupt data and lose it once, and for all due to OS failure or the slightest slip from staff. In this regard, it is very important to keep the most recent copy of important data around. Just in case.
Control means everything when it comes to data backups. The point is, even the most recent file backup may contain errors. To avoid potential problems with data recovery in case of a NAS/SAN failure, it is highly recommended to check data backups and make sure they are 100% suitable for usage.
Call on experienced data recovery services providers. NAS/SAN recovery is a case for qualified technicians, having all the necessary know-how to deal with the high technologies. Companies like ACE Data Recovery, the world's leading provider of the A-grade file recovery services, can develop case-specific tools and software pieces in order to retrieve every single piece of intact data from a faulty cloud device for a fair price.