Choosing Data Recovery Company Is About Value Not Price
Choosing a Data Recovery Company Should Be About Value Not Price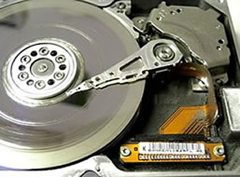 There is an old American idiom that states, "You get what you pay for." It has never been more true than when someone is looking to have their important data recovered from failed media. People who have never had to have their data recovered are often surprised at the cost. Many of them simply look for the cheapest price and go with that company. Most of the time you only get one chance to get your data back, so it is important to choose the company with the top engineers and experience and not the one with the lowest price.
Take the case of a recent customer of ACE Data Recovery. He had accidentally dropped his laptop from only about 5 inches, but it was enough to cause damage to the drive and have it stop functioning. He did extensive research on the major data recovery companies and decided to send his drive to ACE Data Recovery. After completing the
free diagnostic
on his Fujitsu hard drive, it was determined that there was minor media damage on the surface of the platter near Head 0. This is very common and quite recoverable. He was quoted him 10 hours to do the Head Rack Assembly (HRA) change and image the data off of his Fujitsu drive to a separate media.
When he was informed about the results of the diagnostic he understood the issue, but was shocked at the cost. He decided to decline the project. That was bad enough, but next he scoured the internet and found a company who was willing to do the recovery for half the price. The competitor he sent the drive to had it for several weeks,
attempted two times to replace the HRA
, and finally declared the drive unrecoverable. So, he once again sent his drive back to ACE Data Recovery and asked us to get his data back.
When we got his drive the first time, the media was in reasonable shape with only
slight surface damage
and was quite
recoverable
. This time, however, the damage to the media was severe due to the failed attempts by our competitor. It was no longer worth even attempting recovery. His data was lost forever. Drive rebuilding is very technique oriented and is a one shot deal. We've been doing this for over 30 years have the best hands and eyes in the business.
So, when choosing a company to recover your data don't make it about the lowest price. We employ the industry's best engineers and have an unsurpassed success rate. Our secure state-of-the-art facilities allow our R&D team to design and build cutting edge tools to solve the most complex issues. When failure isn't an option, call ACE Data Recovery and get the results you desire, your critical data quickly and safely recovered.

When it comes to data recovery services, you do get what you pay for.