Case Study | ACE Data Recovery vs. DriveSavers
KI Systems, Inc. - Saving a Company's Business Critical Data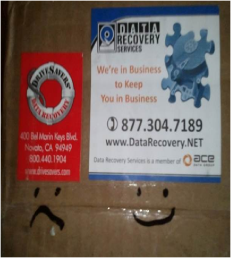 A simple Google search confirms the fact that you've got too many choices when it comes to recovering your data. How do you decide who to call? How do you make the right choice? Narrowing down the selection of any services vendor can be daunting, but it is especially challenging when the wrong decision might mean losing your business critical data forever.
Based on the recommendation of their hardware vendor, KI Systems of Washington state, enlisted the aid of DriveSavers. Despite their bold claim that "We Can Save It", after several weeks they failed to recover any files. KI Systems had their business on the line and were running out of options. Fortunately, they enlisted the aid of ACE Data Recovery. ACE Data Recovery not only successfully recovered their data and saved their business, they did it in less than a week.
Data Recovery Services employs hardware and software solutions developed by our engineers and proved in thousands of recovery cases that can address 99% of our customers' data recovery needs. However, each case is different, and there are cases when the
standard solutions do not work or cannot be used
. Our R&D team has an experience and capability to quickly develop hardware and software tools specifically tailored for any case's demands in order to provide a better service to our clients.
Here are the details of what happened from the President of KI Systems, Kristi LeaMaster:
"On the advice of Dell, we originally sent drives to DriveSavers for recovery.  After 4 weeks and three different attempts, DriveSavers was 100% unsuccessful in recovering any data.  They returned our original RAID array and provided us with a full refund.  Unsure and not hopeful that data recovery was possible, I asked our team to send the drives to Data Recovery Services.  Unknown to me, our staff shipped the drives to you in the same box we received from DriveSavers.

Data Recovery Services was able to recover all but two of the Hyper-V machines from your data recovery effort.  We consider this to be an excellent result given the circumstances. Interestingly enough, your team returned our recovered data and original drives in the same shipping box with a very accurate visual portrayal of the recovery status. Someone has a sense of humor and we laughed when opening the box.  We all hoped the visual portrayal would be true.

I want to thank you and your team for their knowledge, expertise and quality of work.  While I hope we will not need your services again, Data Recovery Services will be our first line of defense."


Over the years we've had countless examples of customers who initially sent their media to companies that called themselves "industry leading" only to find out they could not recover any of their data. Even worse, if that media is mishandled it can make it impossible for anyone to make a second attempt. That data will be gone for good. That's why you can trust your business to the recognized authority, Data Recovery Services.
We employ the industry's top engineers and have an unsurpassed 98% success rate. Our secure state-of-the-art facilities allow our R&D team to design and build cutting edge tools to solve the most complex issues. When failure isn't an option, call Data Recovery Services and get the results you desire, your valuable data quickly and safely recovered.