Case Study | HDD Recovered After Two Data Recovery Companies
Western Digital desktop hard drive have been recovered after two data recovery companies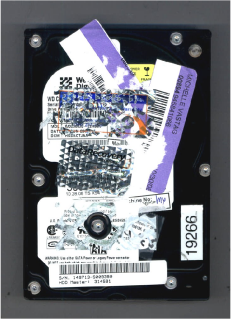 There is an old saying that "third time's the charm". When it comes to data recovery you should never have to make three attempts at getting your data back successfully. As unbelievable as it sounds, that is exactly what happened to Dan Vastag. He sent his Western Digital hard drive to
two different vendors
and they both failed to recovery any of his data. His third and final choice was ACE Data Recovery. As Dan told us afterward, ACE Data Recovery should have been his first choice. Here is the letter we received from Dan detailing his odyssey:
"Hi, my name is Dan Vastag and I would like to share a little story about my experience with a hard drive failure, the frustration involved, and the happy ending. After failure of the drive, I did my research through the Western Digital web site as they are the manufacturer of my drive. They have a listing of preferred data recovery companies. I chose to go the Platinum Partner referral list for data recovery because of the value of the data and I assumed they were the best.

I first chose ESS Data Recovery and sent the drive to them. I approved the cost of the project and instructed them to move forward. They had the drive for several weeks and then contacted me to let me know that the data on the drive was not recoverable. I refused to believe that my data was unrecoverable. So I asked them to please ship the drive back.

After receiving the drive back from ESS, I contacted a second Platinum vendor from the WD vendor list, Ontrack Data Recovery (via Best Buy). I shipped the drive to them, accepted the terms of the project and waited for the good news. Wrong, no good news from Ontrack either. Again, the same story, the drive is not recoverable.
Frustrated and on the verge of giving up, I caught word of Data Recovery Services and the skill sets they possess in the industry. They were my last chance. There was a diagnostic fee from Data Recovery Services because the drive have been open from the prior failed attempts at recovery. I was told by Data Recovery Services that the media was only slightly damaged, but was additionally contaminated with debris and fingerprints. How could that be? What kind of clean room engineer doesn't wear gloves? I accepted the terms for recovery once again. I had every expectation that it could be returned again as another failed project.
Much to my surprise, I received a call from Don Wells, VP of Technologies, informing me that the drive was fully recovered except for approximately 170 files, which are mainly system and other useless files. I was absolutely elated by the news! He explained to me about their R&D department that specializes in Western Digital technology.
I have since heard that Data Recovery Services is the last word in data recovery. I know now this is fact. Data Recovery Services should have been my first choice."
Sincerely, Dan Vastag.
You don't ever need to make three attempts at getting your valuable data back. And you don't need to send your media to a vendor that may
end up doing more harm than good.
What you really need is a vendor that will successfully recover the data other companies can't. Make your first choice the authority when it comes to retrieving any kind of data from any media, Data Recovery Services.