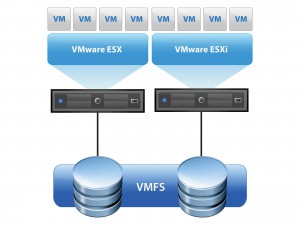 We live in a virtualized world and need virtual machine recovery. Companies like VMware, Oracle, Microsoft, Citrix, and Red Hat are spreading their seeds of virtualization everywhere. While virtual machines are helping Fortune 1000 companies and SMBs manage their businesses like never before, they are also creating new challenges for IT when it comes to BC/DR and especially virtual machine recovery.
So, who invented virtualization? It wasn't VMware. It was Big Blue. Originally called CP/CMS (Control Program/Cambridge Monitor System), VM was invented by IBM at their Cambridge Scientific Center near Boston and was basically "freeware" to IBM customers.
Roll forward 30+ years and most surveys state the percentage of virtualized production systems are at over 50% and growing. Analysts' predictions put that number at over 60% in just two years. While a backup administrator's job was never easy, the virtual server world has made it more difficult. VMware and all virtualized environments in general change the way we think about backup and recovery and virtual machine recovery. More importantly they force us to re-access RPO and RTO.
Virtual Machine Recovery Challenges
Data protection tools that are built for virtual machine recovery can go directly to the hypervisor host or virtual infrastructure management system to find out the names and locations of virtual disks, and then backup those VMs - all without agents. While virtualization is growing in popularity, the majority of organizations are not backing up every virtual server. Over 70% of organizations do not backup all of their virtual servers. On average, all organizations surveyed backup less than 70% of their virtual environment.
So what other options do administrators have when it comes to virtual machine recovery? Simple, they need to look into physical data recovery. Backup and recovery mechanisms are meant to restore data to a state before a corruption or loss. The same is true with physical data recovery. Companies like ACE Data Recovery have over 30 years experience retrieving data from logical or physically damaged media. They are experts at getting your data back from RAID, SSD, tape, and flash devices. They also have experts in virtual machine recovery, databases, and file systems.  What that means to corporations is that they can handle any type of complex recovery. It starts with using their custom designed and in-house built hardware and software to retrieve an image copy of your valuable data. That can be followed by reassembling that data back into a readable format based upon RAID type, or the underlying database, or if it was part of a virtual machine.
You do have another option when it comes to virtual machine recovery: call the experts at ACE Data Recovery on their toll free number 877-304-7189. You can consult with their recovery experts and determine the best way to move forward.