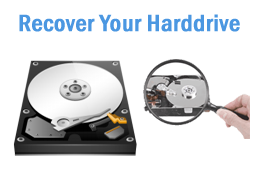 Who knows why it happened, but something went wrong with your computer and now you need to recover hard drive data and functionality. That's what ACE Data Recovery does best. We take pride in our expert ability to recover a wide range of hard disk drives and a variety of operating systems such as SAS, SCSI, EIDE, IDE and SATA. Worried your particular make and model of laptop, desktop or netbook will pose a problem? At ACE Data Recovery, we've successfully worked with them all, restoring computer systems and saving data.
When your hardware fails, it's natural to panic. Your life's work could very well be at stake, as you picture years of work and stacks of data all going down the drain. The worst time to take matters into your own hands is when you're in a panic. Never try to recover a hard drive on your own. Call the professionals at ACE Data Recovery first. We'll take your description of the problem into account and provide you with a free diagnostic evaluation. No matter what the issue is, from inability to boot to virus attacks to corrupted data and hard drive crashes, we've seen it all and can get your computer up and running, many times within just a few days.
Recover Hard Drives – That's What We Do
The engineers at ACE Data Recovery have extensive experience and know the best ways to recover hard drives. Our processes are non-destructive, using a cloning technique that keeps your hard drive from sustaining additional damage. Additionally, our procedures won't void your computer's warranty. We stand behind the cost estimates we give and never do any work on your system until we get your approval. With the highest industry success rate and a Better Business Bureau A plus rating, you know you can count on ACE Data recovery to recover your data.