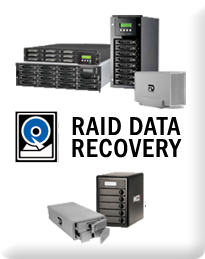 When you use RAID (Redundant Array of Independent Disks) as your server, you feel a sense of security that you won't have to deal with RAID data recovery. After all, the traits of the system are supposed to preserve information and files on multiple disks to guard against the event of one disk failing. Unfortunately, businesses have seen time and again that there is no fail-proof storage option that is successful 100 percent of the time. What can you do to access your data when fluid damage, power surges, human error or other information-destroying issues causes your multiple disk system to fail?
ACE Data Recovery is the recovery service to come too for RAID data recovery. Our elite team of recovery engineers have the skills and experience to recover files and data from the most difficult circumstances. We routinely retrieve files from a number of storage systems in addition to RAIDs including hard drives, solid state and flash drives and even tapes. ACE Data Recovery's vast experience includes recoveries from Microsoft SQL and Exchange databases, and we've often been called upon after other companies have declared a device unrecoverable.
RAID Data Recovery – The Best in the Business
With a 98 percent success rate and guaranteed clear pricing, you have nothing to lose by giving ACE Data Recovery a shot at your RAID data recovery. In fact, you have everything to gain by way of your business's valuable information and files. We have over 30 years of experience and have developed or own techniques and tools to get the job done. Additionally, our policy is "no data, no charge," meaning if we can't deliver, you'll pay nothing. Even the diagnostic evaluation is free, so there's no reason to delay the recovery of your data any longer. Contact ACE Data Recovery now and let us get started on restoring your company's electronic information.