Whether you work in document management, own a business, or you just have important files at home, one of the worst things that can happen is computer hardware failure. Lost documents will mean at least lost time, and in a lot of cases, lost money too; in these situations you need the right data recovery service to get you back on track fast. When your hardware fails, you have an extremely important choice to make. What you do after hardware failure can be the difference between losing your data forever and continuing on with business as usual. When you make the right choice and go to Ace Data Recovery your problems will soon be over.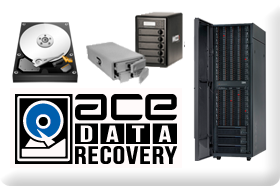 Just about everyone has heard of home remedies when it comes to data recovery, but most people do not know that those home remedies tend to irretrievably destroy data that could have been recovered by a competent data recovery service. Professional data recovery uses tools that the average computer user just does not have access to. Without these tools, like clean rooms, it is much less likely that your data is going to survive the recovery attempt.
Experienced and Affordable Data Recovery Service
You might be worried that any data recovery service you try will simply be too expensive. However, when you go with Ace Data Recovery, you know exactly what we are going to charge before we attempt a recovery. Our upfront pricing and free diagnostic standard recovery service will help keep your costs down, and of course, if we simply can't retrieve any data, we won't charge you anything at all. So make the smart choice when your hard drive fails and you cannot get your data. We have the experience, the tools, and the know-how to get your data back, and if we can't, then you don't pay a dime.